You can use any iOS compatible presentation controller or 'clicker' to control Teleprompter Premium with the convenience of a small handheld remote.
Recommended Controller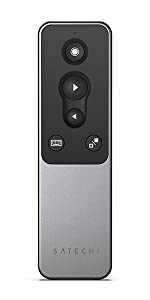 Satechi R1 Bluetooth Presentation Remote
Get Satechi R1 on Amazon (US) →
Which Controllers Will Work?
It's important to make sure that your presentation controller will work with iOS and Teleprompter Premium. First, verify that your presentation controller can connect to iOS, it needs to connect via Bluetooth, and should not require a proprietary USB dongle to work (although most Bluetooth controllers will also include a small Bluetooth USB dongle).
You should confirm that the controller can connect via Bluetooth. If the controller is only advertised as "2.4GHz" or lists 2.4GHz as the only frequency, it will not be compatible with iOS and will not be able to connect to your device. This can be very common for presentation controllers.
How to Connect a Controller
You will need to connect your controller to your device first via Bluetooth. Follow these steps to connect your controller:
On your iPad or iPhone, open the Settings app and select Bluetooth.
Enable Bluetooth if it is disabled, then leave this screen open on your device.
Follow the instructions for your presentation controller to enable a pairing mode so that it's discoverable and ready to connect to a new device.
To pair your controller, tap your controller name when it appears in the list of "other devices" on your iPad or iPhone. You might need to enter the PIN or passkey. If you aren't sure what your PIN or passkey is, check the documentation for your controller.
If you need more help pairing a Bluetooth Accessory, please see this Apple support page: https://support.apple.com/HT204091
How to Control Teleprompter Premium
Once your presentation controller is paired, you can use your controller to control the scrolling of your scripts in Teleprompter Premium. You can customise how your controller operates Teleprompter Premium with three different control modes:
Adjust scroll speed up/down (default)
The arrow buttons on your controller will increase or decrease the scroll speed in increments of 1
Paging forwards/backwards
The arrow buttons on your controller will advance your script forwards or backwards page-by-page, similar to an on-screen slideshow or presentation
Start/stop scrolling
The arrow buttons on your controller will start or stop the scrolling both forwards and backwards
To select a different control mode, make sure you have a script open and ready to scroll:
Tap the Settings icon at the bottom.
Select Scroll Mode.
Adjust the settings to fit your needs.