Note: Transparent Window Mode is only available on Mac. Get Teleprompter Premium for Mac here →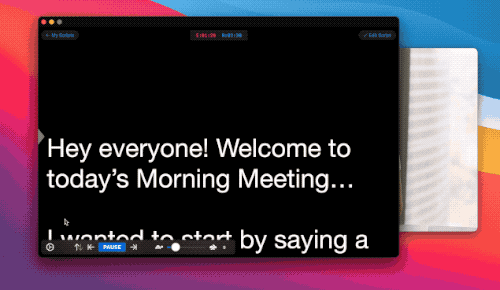 Transparent Window Mode in Teleprompter Premium allows you to make the background to the Teleprompter window transparent to view and monitor other applications and windows behind the teleprompter, such as presentations, video recording, online meetings or live streaming. Additionally, you can enable the Teleprompter Premium window to always float above other active windows and applications.
Transparent Window Mode is available in version 3.8.10 (or later) of Teleprompter Premium for Mac.
Enable Transparent Window Mode:
Open Teleprompter Premium on your Mac, and open any of your scripts
Click the settings icon in the control bar at the bottom
Click Window Settings
Enable the Transparent Window option
Optionally, you can also enable the Floating Window option to keep Teleprompter above other active windows and applications