Use Teleprompter Premium on an external monitor or TV connected to your device.
Using Teleprompter Premium on your Mac? Use the Duplicate Window feature → to make use of external displays on your Mac.
When External Display Mode is enabled, Teleprompter Premium will show your script in full screen on any connected external display or TV. You can control the Teleprompter from your device like normal, all controls and options won't be visible on the connected display. You can also chose to mirror (reflect) the text on the external display, allowing you to monitor the text from your device, while displaying it mirrored in your Teleprompter rig. This is recommended if you're using a professional camera Teleprompter with an LCD display.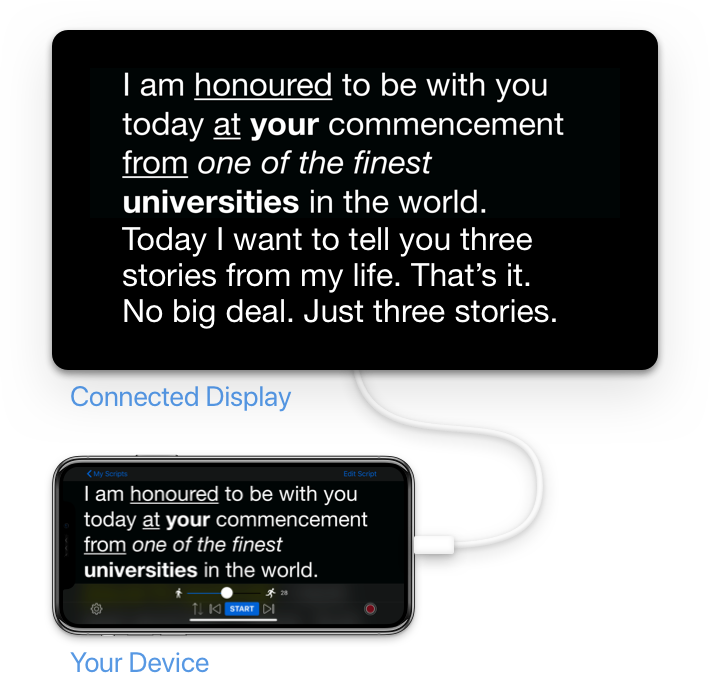 To use External Display Mode, you must connect your device to a monitor or TV with an adapter:
For the best results, we recommend using a wired connection to your monitor or TV:
For more help with connecting your devices to a TV, monitor or display:
To enable External Display Mode:
You must be using Teleprompter Premium on an iOS device
Open Teleprompter Premium, and open any script
Tap the settings icon at the bottom
Scroll to External Display Mode
Enable the External Display Mode option
You can also adjust the mirroring options from this menu, to invert or 'mirror' the text on your external display independently from your device's built-in display in one of three modes:
Mirror text on both your device and the connected display (default)
Mirror text on the connected display only
Mirror text on both your device only