Video Teleprompter 2 launches soon on Wednesday March 1st.
Here's a full detailed walkthrough of every aspect of Video Teleprompter to help you better understand how it can help you.
If you haven't already done so, you should check out the website and demo video.
Heads up: This is a LONG post.
Why Was Video Teleprompter Created?
Video Teleprompter is designed to help you make better videos. To be more specific, it was made to help you look more confident & natural on camera while you're recording.
If you ever make videos on your iPhone or iPad, or just want to get started, this is the app for you…
Let's face it: It's hard to just start talking to a camera and look completely natural. Sometimes it just feels plain weird and awkward.
Have you ever tried to read a script while you record, but it always just looks like you're glancing over and obviously reading a script?
Video Teleprompter solves that problem beautifully! It carefully places your script on the screen closely to the camera, so your eyes are looking directly at the lens while you record.
Imagine being able to easily and comfortably read a script while you record and have it look totally natural. Your videos will look way more professional and engaging instantly!
Can you see how this can make a huge difference to the quality of your videos?
No more paper scripts.
No more memorizing what to say.
No more glancing off-camera at your notes.
No need to record with a separate camera.
No need for an expensive teleprompter rig.
Create, Import, Edit and Share Multiple Scripts
When you first open Video Teleprompter, this is the screen you will see. In my example, I've already created a number of scripts.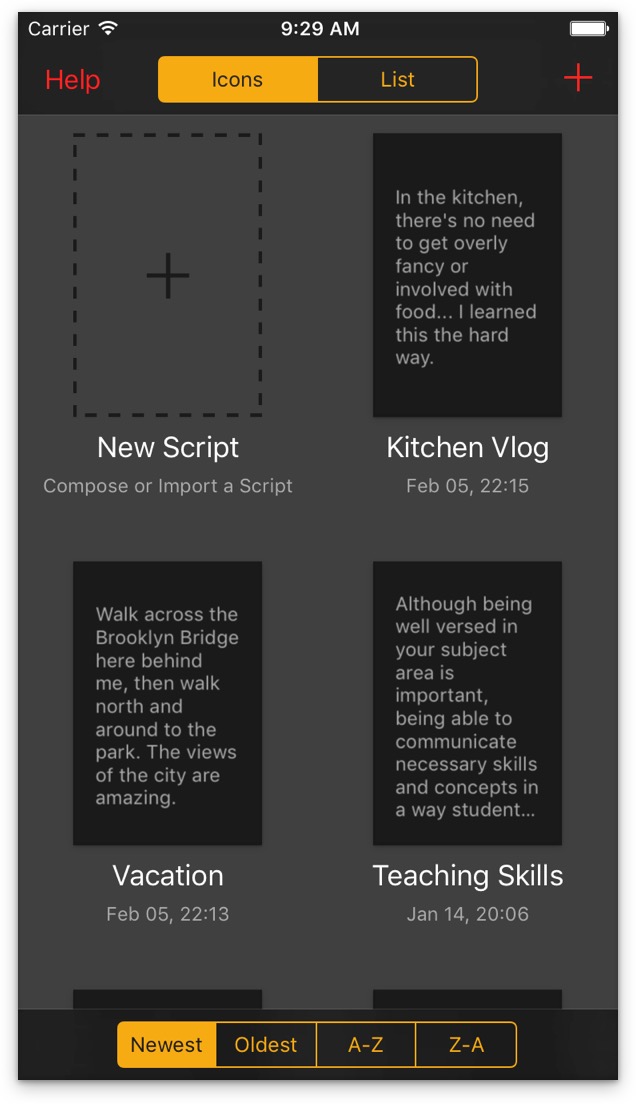 Note: All examples work on both iPhone and iPad. I'll be using iPhone for consistency, but everything works on all devices.
The Help button provides access to our online website of frequently asked questions and lets you contact us by opening a support ticket.
The Icons/List toggle allows you to view you scripts as small icons (this is the default setting shown in the screenshot) or as a list.
The + button shows you all options for creating or importing new scripts:
The Newest/Oldest/A-Z/Z-A toggle allows you to arrange your scipts by newest first, oldest first, alphabetical or reverse alphabetical order.
Tapping on any script will open the script ready to record a video.
Tapping and holding on any script will provide options to delete, rename or share the script:
Open Your Script and Start Recording Video
When you tap on any of your scripts, the script will open ready for you to start recording videos. By default, the front-facing 'selfie' camera is selected. This view has the most buttons and options.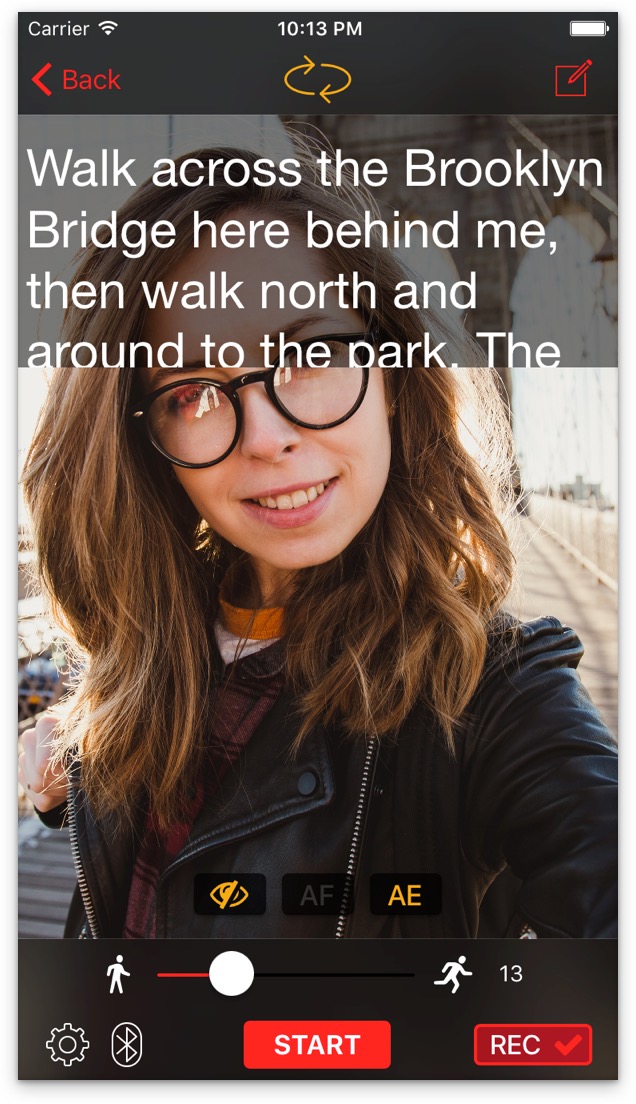 The Back button will navigate back to your scripts.
The button (top center) allows you to switch between the front-facing 'selfie' camera and the rear facing camera.
The button (top right) shows the script editor where you can make changes to your script text and formatting such as font color and highlights.
The toggle allows you to enter Full Screen Mode, which hides all on-screen controls so you can frame your shot perfectly.
The AF button allows you to lock the autofocus at its current state.
The AE button allows you to lock the autoexposure at its current state.
The main slider allows you to control the speed at which your text scrolls.
The slow and fast icons at either side of the main slider can be individually tapped to increase or decrease the speed value more accurately.
The button will present the script settings including options for the font, text size, text background color, background opacity and text area size.
The button lets you enable the Bluetooth keyboard control.
The START button will start or stop the text scrolling and video recording.
The REC toggle allows you to enable or disable video recording.
Edit Your Scripts
You can edit your existing script using the script editor, including advanced options for formatting the text.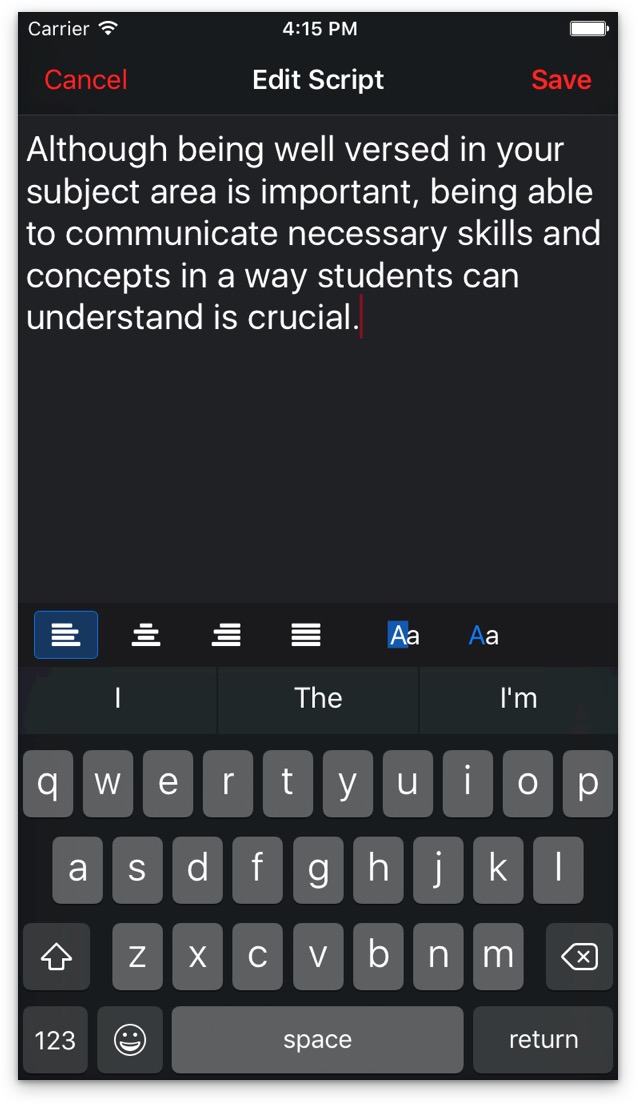 The Cancel button will close the editor without saving any changes.
The Save button will close the editor and save all of your changes.
The , , and buttons allow you to align the selected portion of text. Your alignment choices are left, center, right and justify.
The Highlight button allows you to specify a highlight color for the selected portion of text.
The Color button allows you to specify a font color for the selected portion of text.
Make Better Videos
All of these features have been specifically designed to help you make better videos and be more confident on camera.
Video Teleprompter 2 Launches on Wednesday March 1st
Don't forget that there's a 20% "thank you" discount for being an early customer and supporting my products. This means you can get Video Teleprompter for just $11.99 for the first 48 hours. Your early support for my products means a lot of my business, so I always want to reward those who support me on launch day. 🙂
This special price will be ending at 23:59 on Thursday 2nd March. The price increases to $14.99 forever afterwards.
See you at the launch!